ChillWell AC - Best Portable AC for Summer 2023
Regular price
$89.99
Sale price
$149.00
Unit price
per
Tax included.
Shipping
calculated at checkout.
This is How Thousands of Americans are Cooling Any Space Without Using Expensive Air Conditioning
Summary: We all know that hot weather is neither comfortable nor healthy for us. Let's admit that there is no way to survive summer without air conditioning. However, traditional AC units are not the best option when it comes to air conditioning. Fortunately, there is a solution called ChillWell AC. A smart portable device that not only cools but also moisturizes air and all that with a very low price.
 It is going to be a long, hot and uncomfortable summer this year. Regardless of where you live, the inside temperature of your home or office can become unbearable during the summer.
The Traditional Air Conditioning Systems are not good for us!
The window AC units are expensing to install and more costly to operate. They are taking too much space and generate tremendous amounts of noise.
The wall air conditioners are as expensive as the window ones, you have to dig a hole in the wall of your house to install them, they are not that helpful in humid and extremely hot climates and they must be maintained regularly.
But what if there is another way?
Say goodbye to sweltering summer temperatures with ChillWell AC 
This magic cooling device has been flying off the shelves and it is quickly becoming a best seller.
It is pefect for those super hot and humid days and nights! Let's see why…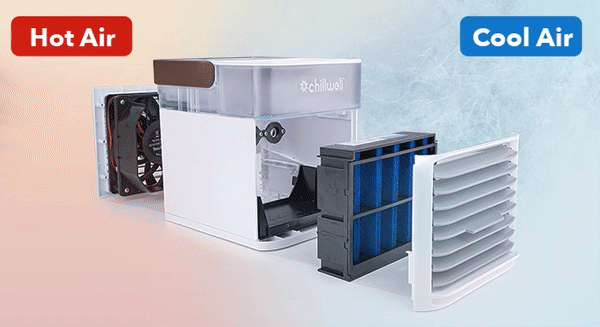 ChillWell AC quickly cools and moisturizes the warm air from your room to make it a breeze of fresh and cool air!
Thanks to its compact and portable design you can use it in the office, at home, or at your garage!
All you have to do is put some cool water in the device plug it in and turn it on!
It has no installation costs, no maintenance costs and it is extremely quiet.
This is a big advantage when you are working or sleeping!
ChillWell AC is really an investment as you can use it all year round.
Breathing fresh air is necessary all year long especially for babies, children and elderly people.
Thanks to a groundbreaking technology using water,ChillWell AC it saves energy and money.
With ChillWell AC you can now cut on your monthly expenses!
What makes ChillWell AC so special?
ChillWell AC  is a smart device that cools air by using water evaporation, the same way nature reduces atmospheric heat.
This technology was developed by two engineers who were fed up with regular AC units and were looking for an adaptable device that can be used in many different ways.
When looking at reviews, there are many features that stand out as the reason 1000s of users give this portable cooler 5-star rating:
✅ Highly Adjustable – With 4 adjustable wind settings, ChillWell AC makes it easy to work in comfort or sleep at night.
✅ An All-in-One Gadget – It can also act as a humidifier, moisturizing the air around you. Extra tip: With a few drops of your favorite essential oil in the water tank, it works like an oil diffuser too!
✅ Easy to Use – All you need to do is fill the water tank , plug it and press the start button. It will cool your personal space in minutes
✅ Convenience– It doesn't take much space – you can store it anywhere and take it with you everywhere you go.
✅ Ideal for Sleep– ChillWell AC has made sure that it has a super quiet operation. It is well suited for a kids' room as it will not disturb their sleep. To top it off, the led light makes an excellent nightlight.
How much does ChillWell AC cost?
We calculated the cost of ChillWell AC to be between $150 – $200. The average guess in the office was $200. Incredibly the highly-rated ChillWell AC is just $89.99 … (with the 50% promo at the time of writing)! It's an amazing deal as finding value in this market isn't easy. So, for those who want all the latest features from a reliable brand, ChillWell AC is ideal. It offers more than you would expect to find from the expensive brands but is nowhere near as costly. It is also incredibly easy to use.
C

onclusion: Should you buy it?
In short, YES!

With the summer heat a hotter than average summer being here already, ChillWell AC will keep you cool and comfortable.
The traditional AC systems are big, noisy, difficult to install and more importantly – extremely expensive. Time to stop sweating and stressing under the scorching heat!
At the moment you can get it with a 50% discount. It is an amazing deal and we are sure that it will not last long…
In a Nutshell: ChillWell AC is the best value for money option on the market right now
---
Share this Product
Can ChillWell Portable AC be used in the car or garage?

Yes, it can be used in the office, at home, at garage, or even in your car.

Where is ChillWell Portable AC made? Is the ChillWell AC legit?

Yes, it is legit. ChillWell™ AC is made by the Ontel Products Corporation, based in New Jersey, Fairfield

Will the ChillWell Portable AC uses a lot of electricity?

Not at all. The whole point of this device is to make it affordable and easy to cool off the area. The device uses evaporation technology to eliminate excess heat while introducing cold air.

How much noise does the ChillWell Portable AC make?

Very little. Most people barely notice that it has been turned on.

How long can ChillWell continue running?

Without being recharged, ChillWell runs for a minimum of 5 hours, though this time will depend on the current room temperature and the humidity in the space. If the user plugs in ChillWell, the full water tank should last 8-12 hours before needing to be refilled.

How does ChillWell help users to get cool?

To provide the user with cooling benefits, ChillWell uses Hydro-Chill technology, introducing cold moisture into the air.